John Gregory's Creations offers a variety of unique gifts for purchase, such as cards, coasters decorative tiles and more. Products are sold at local arts & crafts fairs as well as the businesses listed below.
Cards, Coasters and Tiles:
Cards: $4.00, 4"x6" with envelopes, available in all Portfolio designs
Coasters: $8.00, 4"x4", water resistent, available in many designs
Decorative Tiles: $20, 6"x6", heat and water resistent, available in limited designs
Click here to view examples of designs and products:
To place an order, contact us indicating the item, design and quantitiy desired. We will reply with a quote and instructions for payment. Click here.
To find out where John will be selling his products next, view the Events page (Events).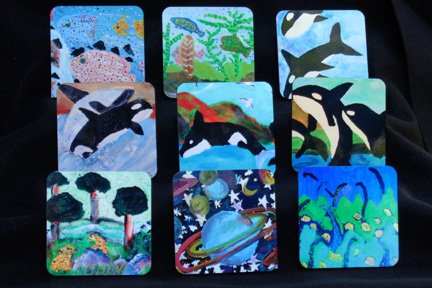 Visit these businesses to find John's cards and gifts!
The Gallery at Town Center, Lake Forest Park WA

Bambu Organic Salon, Seattle WA

Jones and Ibrahim Attorneys, Redmond WA

ENSO, Tukwila WA